Cambrils
The fishing village of Cambrils, set in a prime location of the Mediterranean at the centre of the Costa Dorada, surrounded by the hills of Llaberia, Argentera and Mussara, with gentle slopes leading down to the sea, is the second biggest town in the Baix Camp district.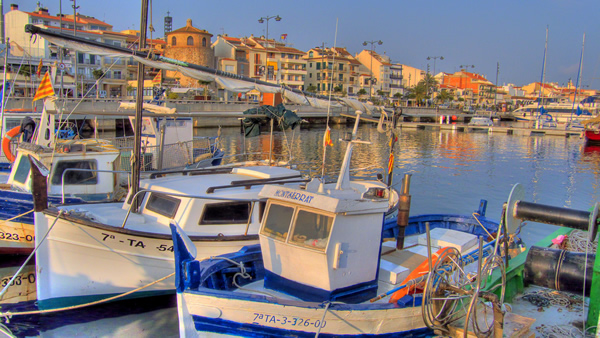 Cambrils enjoys a mild climate, with average temperatures of 25° in the summer and 12° in the winter. The climate of Cambrils is typically Mediterranean, although the characteristic humidity of seaside areas is offset by the dry northwest wind. The average annual humidity ranges from 69% to 75%. The summers are not excessively hot, the maximum temperature in August being 26.7°C.
Cambrils celebrates its local festivities in June, coinciding with St. Peter's Day. In September, the day of the Virgin of the Way is celebrated.
It has several food-sampling days, the most popular being the squilla day, whose intention is to show people the excellence of this typical seafood dish from Cambrils.
One of the most popular attractions of Cambrils is its 9 km beach of fine golden sand.
In addition, parallel to our beaches is the promenade, where you can enjoy the peace and tranquillity of the Cambrils coastal scenery on foot or by bicycle.
Beaches of Cambrils
Cap de Sant Pere (Augustus Hotel) with medium occupancy
Vilafortuny Beach with low occupancy
Horta de Santa María Beach with medium/high occupancy
Cavet Beach with low occupancy
L'Esquirol Beach with low occupancy
For further detailed information, please visit  http://www.cambrils-turisme.com

Salou
Salou is a coastal town with a population of 26,650 (National Institute of Statistics 2009) located in the province of Tarragona, on the Costa Dorada, 10 km from the city of Tarragona and 9 km from the city of Reus. It is considered the capital of the Costa Dorada, being the most important tourist destination.
Founded by the Greeks in the 6th century BC, the city was a prominent commercial port during the Middle Ages and the Modern Age.
In the 20th century, Salou became a major tourist centre, a status it retains today, which has allowed it to grow immensely.
In the vicinity of the resort is the Port Aventura World theme park.
Beaches of Salou
Salou has superb beaches and many coves with fine golden sand
Levante Beach with medium/high occupancy
Poniente Beach with medium occupancy
Los Capellanes Beach with medium/low occupancy
Larga Beach with medium/high occupancy
Lenguadetes Cove with medium occupancy
The coves of Cap Salou with medium/high occupancy
Festivities
Cós Blanc "Carnival" (Winter festival, first Saturday of February)
St. Georges Day (April 23)
Golden Nights (Nits Daurades) (Summer festival, week of 15 August)
Feast of King James I the Conqueror (Festa del Rei Jaume I, El Conqueridor) (September 7)
National Day of Catalonia (11 September)
Festival of the Segregation (Festa de la Segregació) (30 October)
For further detailed information, please visit http://www.salou.org
How to get to our hotels

By bus from Barcelona or Reus Airport (Until Vilafortuny / bus stop Augustus) Recomended
To see schedules and rates click here
By train from Barcelona Airport to Cambrils
There are no direct trains from Barcelona Airport to Cambrils. Therefore, it is necessary to take a train to the center of Barcelona – Sants to go to Cambrils
– Airport T2 to Sants Bahnhof (Barcelona) Line R2, click here
– Sants Bahnhof (Bacelona) to Cambrils, click here
Our hotels are 6 km from Cambrils station, you will find a taxi and bus at the station (Vilafortuny / bus stop Augustus)
By Car 
To know the road route click here
From the Camp de Tarragona (AVE)
You will find, at the exit of the station, taxi and bus to destination (Vilafortuny / bus stop Augustus)